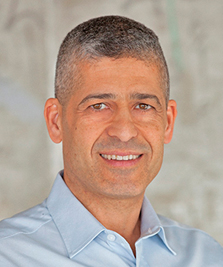 Ofer Brown
Chief Operations Officer
Leveraging over 20 years of global experience in the telecommunications, Fintech, and banking sectors, Ofer Brown currently serves as the COO of nsKnox.
As Senior Vice President, Head of Program Management APAC for Fundtech (acquired by D+H and now Finastra), Ofer was responsible for the company's expansion into Asia Pacific (APAC). During his 10 year at Fundtech, Ofer held a number of executive positions, including Vice President of R&D for global banks. He also established Fundtech's 24/7 Global Production Support organization (which serves the company's largest customers) and held a Business Unit Manager position where he was responsible for both delivery and P&L.
Prior to his time at Fundtech, Ofer worked as a developer and group leader in R&D at Amdocs, a leading provider of billing software for the telecom industry, and also worked at Bank Leumi for 3 years.
Ofer holds an MBA in Finance and Information Technology from the Hebrew University in Jerusalem, and a BA in Economics from Ben Gurion University in Beersheba.