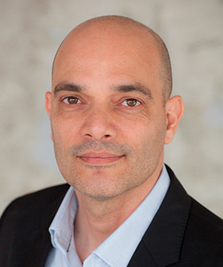 Nir Tenzer
Chief Executive Officer
As the CEO of nsKnox, Nir leads the company's teams and efforts toward providing Fintech and Cyber Security breakthroughs, while addressing the most sophisticated forms of fraud.
Before joining nsKnox, Nir held senior executive positions for 11 years with Microsoft, most recently as Microsoft South Africa's COO and CMO, where Nir was responsible for the entire company's business groups, business operations, cloud journey, and marketing efforts.
In his 11 years with Microsoft, Nir also held executive roles in Microsoft Israel, including Vice President of Business Development and Platform Strategy. Through his work with Microsoft Israel, Nir developed substantial expertise in business development, spanning start-up to mature businesses, and driving Microsoft's cloud business forward.
Prior to joining Microsoft, Nir served as the Marketing & Business Development Vice President for the IPTV division at Teledata Network Ltd., as well as a number of executive marketing and business development roles throughout the Israeli software industry.
During his career, Nir has regularly lectured at the Recanati School of Business Administration in Tel-Aviv University.